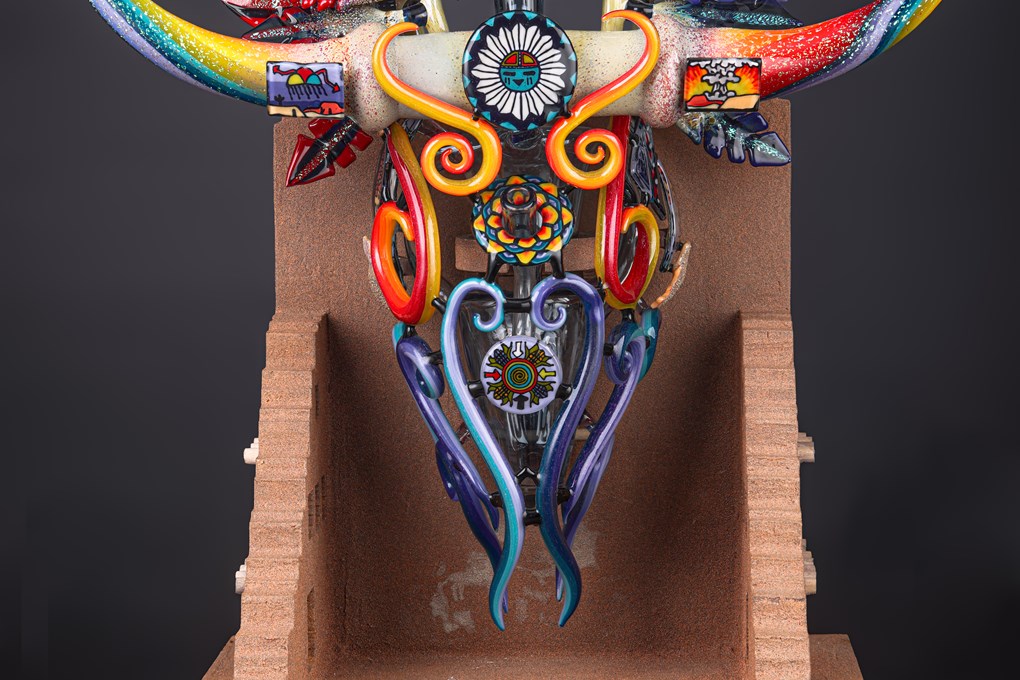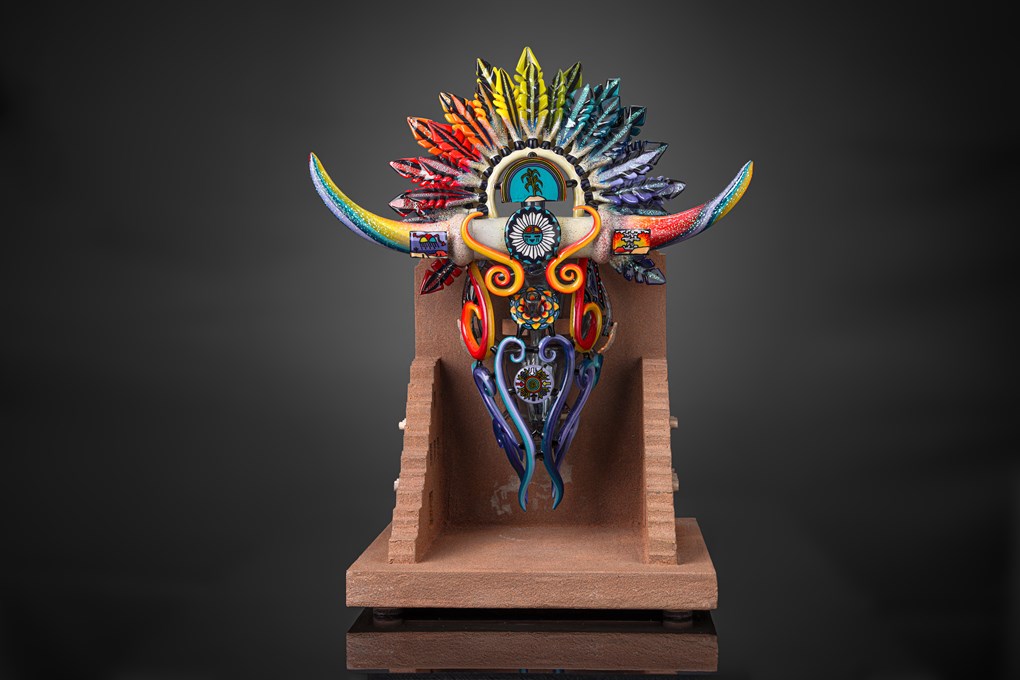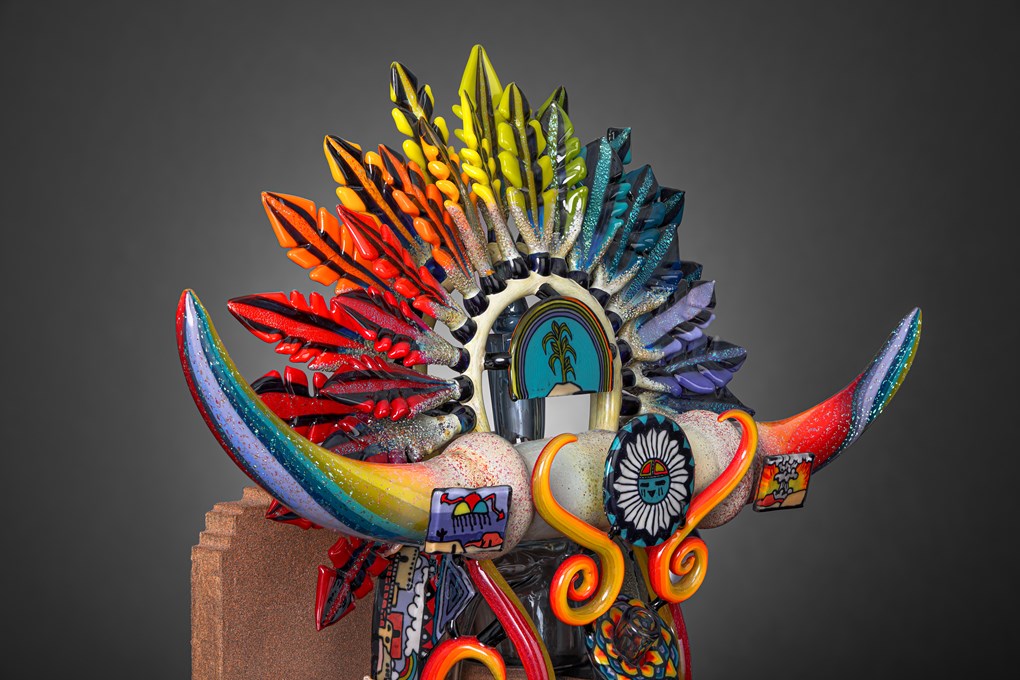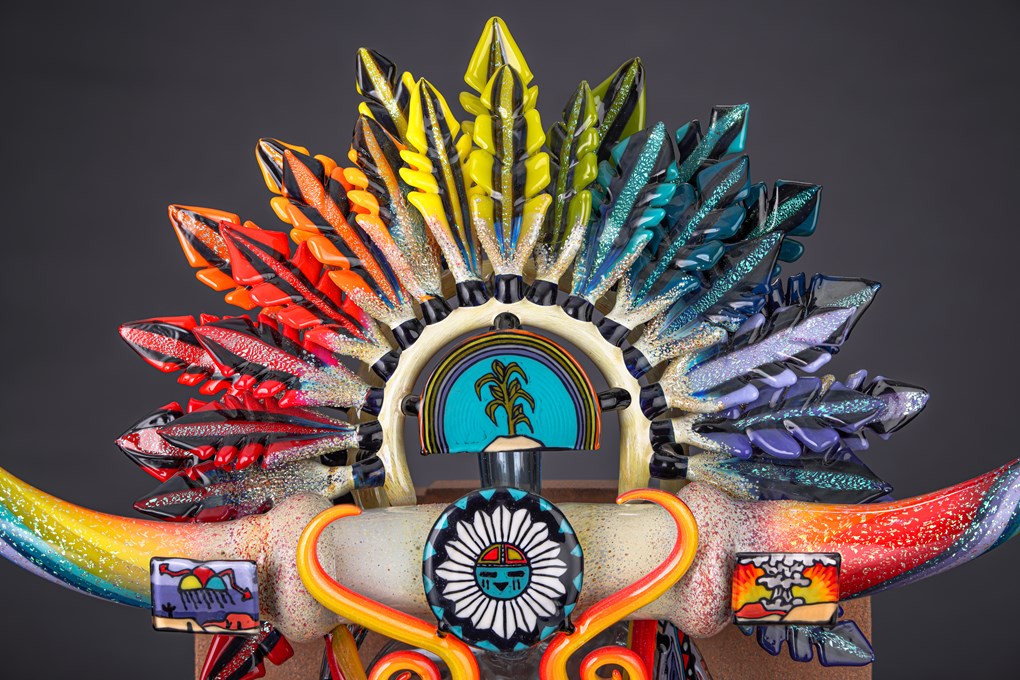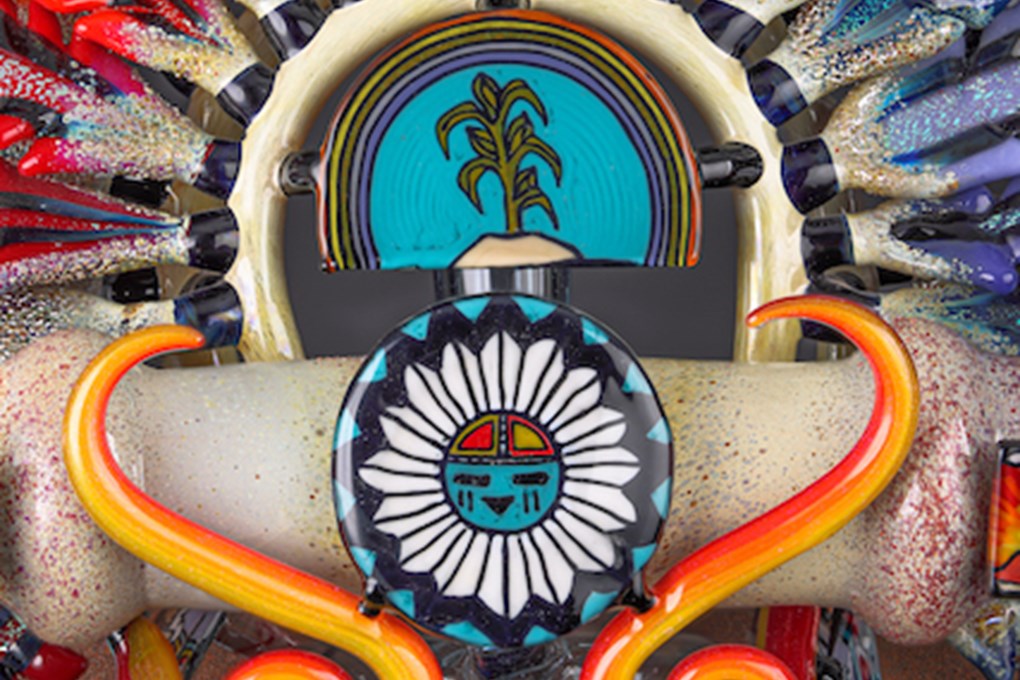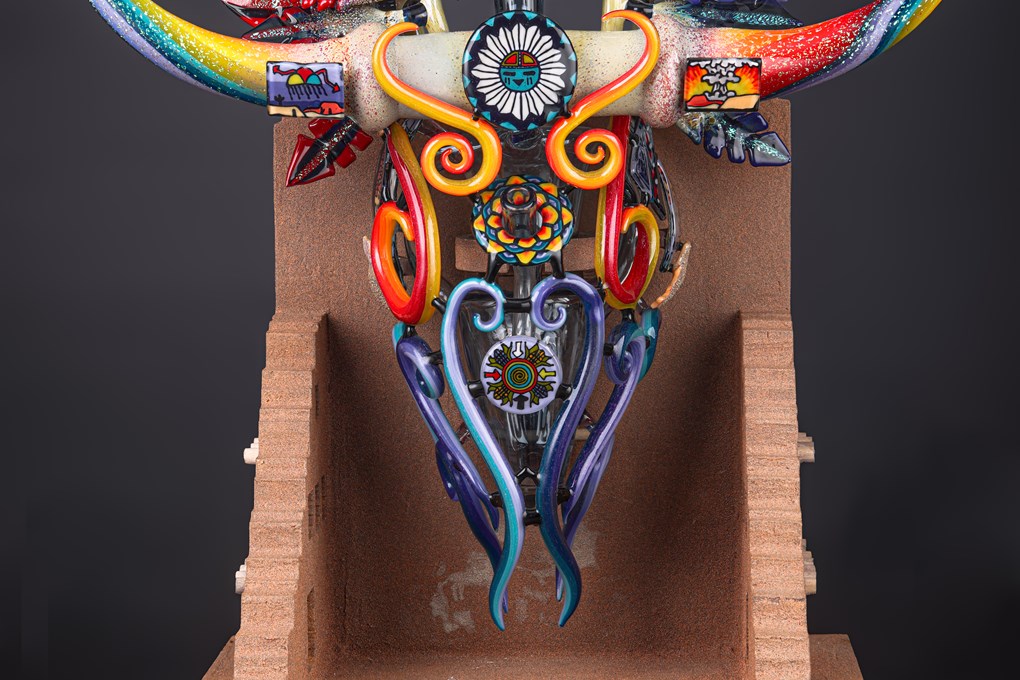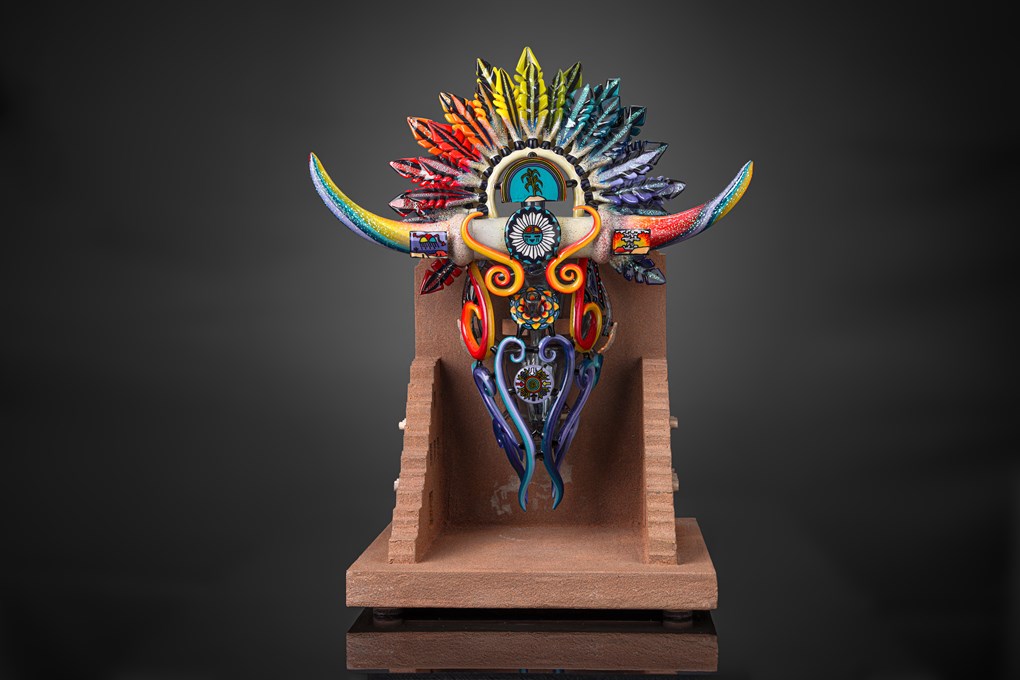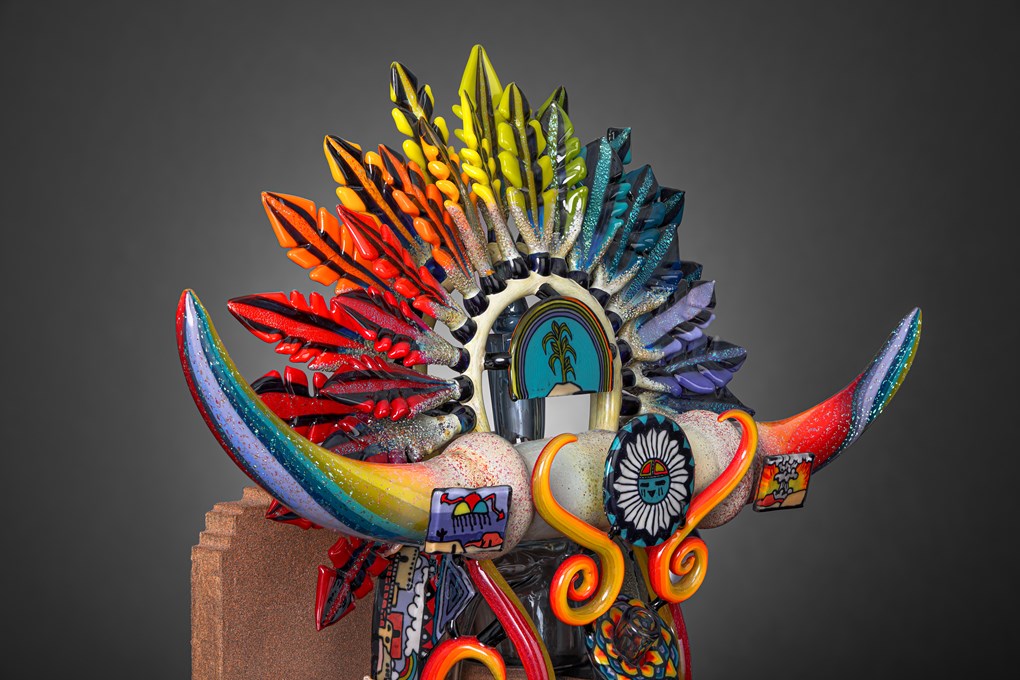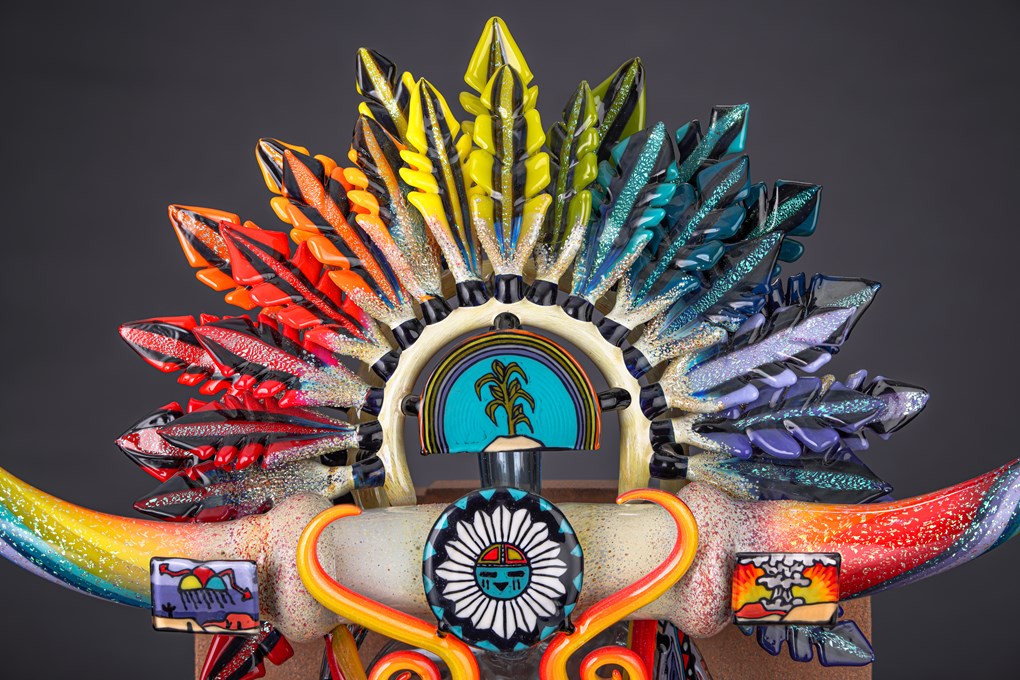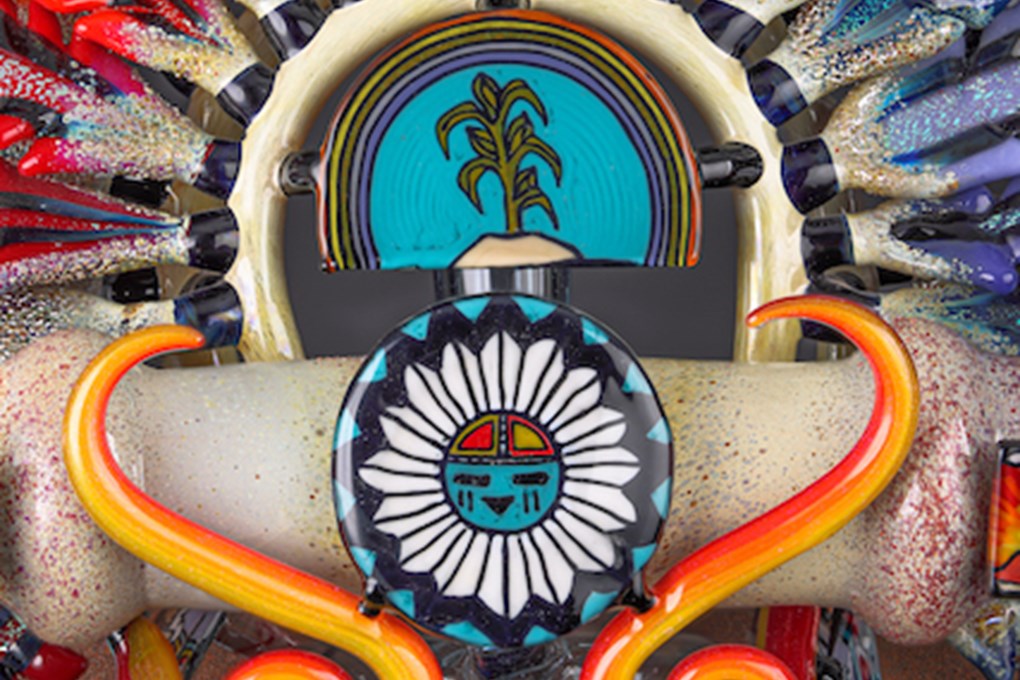 Hicdogg x Windstar: Koyaanisqatsi
This work of art is called "Koyaanisqatsi" - inspired by the Native American Hopi Prophecies. This is a hefty collaboration between Hicdogg, Windstar Glass, and Dupolux. Elements of each artist can be found throughout the entire sculpture, and was designed to reflect several storytelling aspects of the Prophecies' saga.
Materials & Technique:
This piece features lots of color and lots of collaboration. What draws the eye initially is the bull skull and rainbow feathers covered in gold dichro, creating a gorgeous color gradient. As the eye focuses in on the sculpture, one can see individual stained glass images that speak to several phases of the Hopi Prophecies. The images speak to each of the past Worlds' destruction throughout Native American history, the result of forsaking the plan of the Creator; destruction by Fire, consequently by Ice, then by Flood, leading into the current World, the Fourth World in which we are living in today.
---
Interested in pieces like this one? Art of Glass subscribers will get email notifications as new glass drops are released.
Hicdogg
Hicdogg began flameworking in 1997 at 16 years old and is currently known for his reimagined dragon and bull skulls. Hicdogg's journey in glass started in his dad's garage, working off of the book, Glassblowing by Homer L. Hoyt. He eventually honed in on his skills of sculpting figurines and pipes. Pieces that broke turned into new works of art, reflecting the trials and tribulations of perfecting a craft. With a career of 24 years in glass, Hicdogg is an inspirational member of the heady glass industry, showcasing work that continues to awe and impress collectors, enthusiasts, fans, and competitions.
Windstar Glass
Windstar Glass is known for her stained glass technique art that originated with her love for molten aura colors. Surface work stringer tech is one of her favorite techniques, as it is not very common, and produces work that is signature to her. Windstar started working on the torch in 2014 at her family's headshop, where she was able to hone in on her craft and bring something new to the scene.